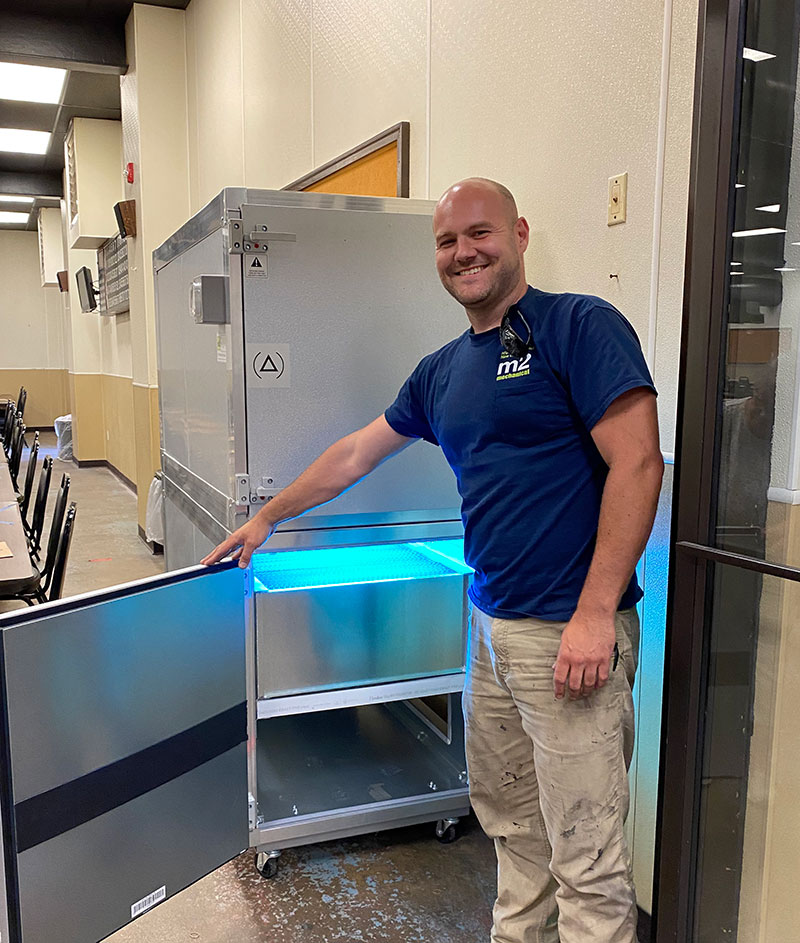 M2 Mechanical Field Manager James Kiessling with the air filtration unit
Seacoast Nonprofit Organizations Invited to Enter Random Drawing for a Chance to Win a Free Air Filtration System
Exeter HVAC company M2 Mechanical will donate sophisticated air filtration unit – $14,000 equipment cleans 8,300 Square Feet
Exeter, New Hampshire — Calling all Seacoast Area Nonprofit Organizations, including schools! Exeter-based HVAC firm, M2 Mechanical, has announced it will donate a sophisticated air filtration system to a randomly selected organization on September 1, 2021. No purchase is necessary to enter the contest. The retail value of the equipment is $14,000.
The large air filtration unit works best in a 4,000 – 8,300 sq. ft. open area. The deadline to apply is Wednesday September 1, 2021 via email. The winner – drawn randomly from all applicants – will be announced in early September and includes installation of the system.
According to M2 Mechanical Director, Steve Klatt, the system – known as a "scrubber" – can clean 8,300 square feet using three state of the art patented methods: HEPA, UVC, and Bipolar Ionization. "You can turn the device on and off as the area is occupied, and move it around as needed given the castor wheels."
Klatt explained why the firm is looking to donate to nonprofits, "We already support many great nonprofits that are active in our area. Given the burden that Covid-19 has placed on public gathering spaces, we wanted to expand what we do for the community. People are paying close attention to the quality of their indoor air leading many businesses, nonprofits and municipalities to invest in indoor air purification technologies. To be able to make this donation to a deserving organization to protect the safety of more Seacoast residents is exactly what our firm is all about; giving back."
To apply for this drawing, eligible nonprofits, including schools, performing arts venues, gyms, town meeting spaces, auditoriums, etc. need to:
Send pertinent information to MHinkle@m2mech.com
Name/address/phone
Proof of 501c3 status
Provide mission
Organization must be within 60 miles of Exeter, NH
Briefly describe how this donation would be used/why it would be a benefit.
About the "scrubber"
The portable equipment is easy to install and brings together three state of the art methods that work together to clean indoor air.
HEPA – (High Efficiency Particulate Air Filter) – a mechanical air filter that captures particles
UVC – Ultraviolet light which sanitizes the air
Bipolar Ionization: patented technology which is proven effective in reducing exposure to viruses, bacteria, mold and other airborne particles (including COVID-19).
M2 Mechanical is a heating, ventilation, air-conditioning and refrigeration (HVAC/R) company serving commercial clients throughout New England for three decades. The family-owned Exeter, New Hampshire firm, with over 50 employees, is known for exceptional customer service, problem solving expertise, 24/7 emergency services, and competitive pricing. Services include maintenance, installation and repair of HVAC/R and Indoor Air Quality (IAQ) solutions, including air filtration options that reduce risks associated with COVID-19. For more information visit www.m2servicegroup.com
Interviews available upon request.
Contact: Kathleen Soldati
Kathleen@CrossCurrentCommunications.com